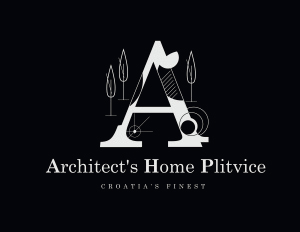 As the name says, this is not a house, this is a HOME. Designed by prominent architect in Croatia, Zdravko Bregovac in the 1970-ties (1973 to be exact), now also owned by an architect and his family, the Architect's home presents rare example of luxury accommodation in the very heart of Plitvice National Park – in the village Plitvica Selo.
Architect Bregovac, also known as architect of tourism, has a fascinating opus of designing more than 35 hotels and 25 tourist villages thourghout this region, and Architect's home present one of rare Single houses designed by him. Working and designing through different typologies, sizes and organisations, no matter if it is a hotel on the Adriatic coast, or in the far depths of Lika forest, Bregovac makes tourist constructions never to be seen by that time, spaces in which a guest perceives unseen experience.
Architect's home is one of such places. Situated in a small village of Plitvica selo, just after the Big waterfall, the property has 3500 square meters of land and almost 220 square meters of house, overlooking the Kozjak lake. Surrounded with 50 years old pine trees and wooden fence, it presents a peaceful get-a-way in the very centre of Plitvice National Park.
If you ever want to get out of the house, it will take you 10 minutes of leisure walk to get to lake Kozjak and transfer boats and 15 minutes to the Big waterfall.
As mentioned before, the house is now also owned by an architect, who meticulously renewed the old house, keeping full wooden structure and mountain appearance. With new luxury amenities, this house is self-sustainable, suitable for family or families to settle for a couple of days and get the full Lika forest and Plitvice National Park tour.